Today, on Lifestyles of the Rich and Famous we find out where the biggest stars love to kick back, relax, and plan their next big movie/album/whatever the Kardashians do. As you might expect, favorite celebrity vacation spots are a map of tropical islands and exotic locales, but there also a few surprises on the list (Wyoming, anyone?). Read on to find out who goes where, and you might find yourself sharing a beach towel with a famous face on your next vacation.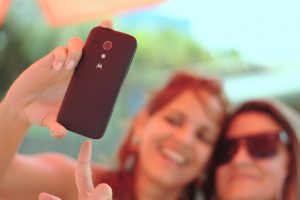 ---
30. Punta Mita, Mexico
Celebs who love it: Kate Hudson, Britney Spears, Charlie Sheen, and Lady Gaga
This posh enclave of Mexico is a magnet for movie stars year-round. Besides the sunny weather and perfect beaches, Punt da Mita also has a bustling arts scene. Definitely a go-to if you're thinking of adding a few pieces to round out your collection and keep your Golden Globes statuettes company.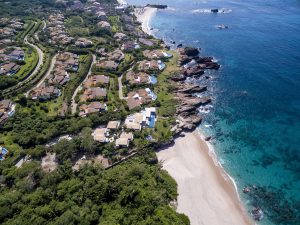 29. The Bahamas
Celebs who love it: Denise Richards and Jennifer Hudson
One spot in particular is a hot ticket for celebs, and that's the Atlantis hotel and resort. One of the most exclusive hotels in the world, Atlantis looks like a coral reef that's been transplanted onto land. Exquisite food, spa services, and accommodation make this the destination of choice if you really want to get pampered.
28. Mustique, West Indies
Celebs who love it: Prince William and Kate Middleton, Mick Jagger
It's a private island just west of Barbados, and it's remote beaches and luxury villas make it a haven for both reel and real royalty. There are no paved roads or cars, but that's no problem when the only trip you need to make is from pool to beach and back again. The villas come with a full staff, so it's not like you have to don your crown and go buy your own groceries, like some peasant.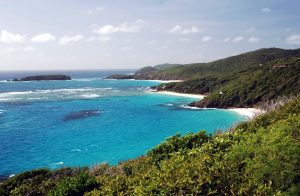 27. Costa Rica
Celebs who love it: Tom Brady, Gisele Bündchen, and Zac Efron
Celebs love Costa Rica because its untempered wilderness offers tons of opportunities for outdoor adventures. The gorgeous waterfalls and tropical jungle are just icing on the cake. The good news? Since Costa Rica is one of the cheapest places to travel to, even us regular humans can enjoy one of the all-time favorite celebrity vacation spots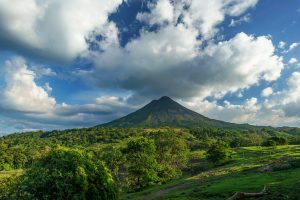 26. Mallorca, Spain
Celebs who love it: Gwyneth Paltrow
This is where celebs go to enjoy the Mediterranean lifestyle to the fullest. Mallorca, part of the Balearic Islands off the coast of Spain, are all beach resorts, jazzy nightlife, and turquoise seas. Catch a tan, explore the coves, and you might even spot Michael Douglas and Catherine Zeta-Jones – the couple has a house here.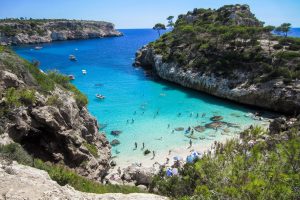 25. The Hamptons, New York
Celebs who love it: Lady Gaga, Billy Joel, Justin Bieber, and Jerry Seinfeld
The kitschy seaside village that started out as a haven for beat poets and hippies is now celeb central. The epic houses, beaches, and boutiques of the Hamptons have been immortalized in many a movie and it's an easy jaunt for actors headquartered in New York: Scarlett Johansson has a house here.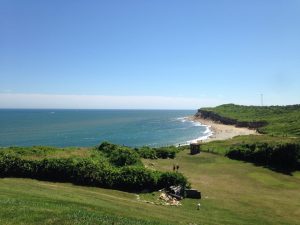 24. Turtle Island, Fiji
Celebs who love it: Margot Robbie
Look up tropical paradise in the dictionary and you're likely to see a picture of Turtle Island right next to it. White sand, lazy palms, and aquamarine water make for a pristine vacation experience that's a big draw for celebs, and anyone looking for a romantic getaway. Both Jessica Simpson and Britney Spears had their honeymoons here, and although those marriages ended shortly after, we're pretty sure the island's not to blame.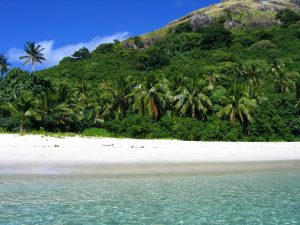 23. Vancouver, Canada
Celebs who love it: Lucy Hale
We suspect celebrities love Vancouver in part because of its nickname, Hollywood North. But it's also known for its natural beauty and all the outdoor fun it affords, like hiking, skiing, and surfing. Great eats and shopping make it a magnet for the young and famous who are looking for a break from LA.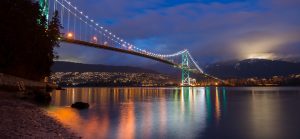 22. Necker Island
Celebs who love it: Kate Winslet, Steven Spielberg, and Harrison Ford
The Brit billionaire Richard Branson owns this humble private island in the British Virgin Islands, but he's not greedy. He lets other uber-wealthy celebrities rent the Caribbean paradise for a reasonable fee. The perfect getaway for famous faces who need a break from the paparazzi.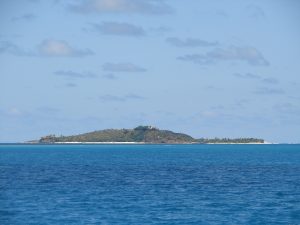 21. Maldives
Celebs who love it: Penelope Cruz, Eva Longoria, Jude Law, and Kate Moss
This archipelago of perfect islands in the South Indian ocean is what vacation dreams are made of. Just serene beaches overlooking blue water as far as the eye can see. Staying at one of the ultra-posh resorts here is incredibly expensive – no biggie when your last movie made bank at the box office.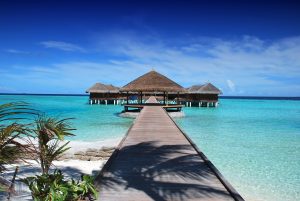 20. Jackson Hole, Wyoming
Celebs who love it: Harrison Ford, Matthew McConaughey, and Sandra Bullock
Where? This location might seem like a dark horse on a list of otherwise exotic locales, but Jackson Hole attracts big names because of its natural beauty. Like something out of an American Western, visitors can look forward to breathtaking mountain vistas, prairies, and horseback riding. 
19. Marrakech, Morocco
Celebs who love it: David Beckham, Usher, Katy Perry
Because of its cool, colorful lifestyle, celebs love to flock to Marrakech to restore their creative energy. It's a hip oasis city in the middle of the desert, alive with markets and splendid architecture where there's a feast for the senses around every corner. No wonder it's an up-and-coming travel destination as well as being a favorite celebrity vacation spots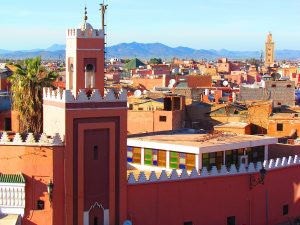 18. Lake Como, Italy
Celebs who love it: George & Amal Clooney
For celebs, and most travelers, Lake Como is love at first sight. That's what happened to George Clooney, who purchased a 7.5 million dollar estate there after visiting with a friend. This area of Lombardy has been an upscale resort destination for the well-to-do since the 19th century, and shows no signs of dwindling in popularity thanks to its spectacular scenery.
17. Miami, USA
Celebs who love it: Shakira, Ryan Philippe, and Ariana Grande
Miami, and especially South Beach, is the world's playground and celebs are no strangers to its charms. Celine Dion, Sean Combs, and Matt Damon all have homes here. For travelers, a visit here is always a fun immersion into luxe living, with its cool Art Deco hotels, endless yachts, and great contemporary art scene. Tourists are constantly reporting Jennifer Lopez sightings – but she was probably just looking for Pitbull.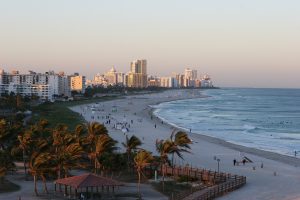 16. Anguilla
Celebs who love it: Uma Thurman, Paul McCartney, Michael Jordan, and Liam Neeson
This is a fave Caribbean destination for normies and celebs alike. If you like drinking from a coconut and snorkeling, you'll probably like it too. The tropical respite is a treasure trove of gorgeous beaches, resorts, and untouched wildlife preserves. Perfect place to kick back and learn your lines, or plan your next comeback.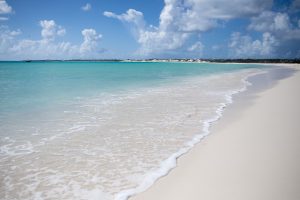 15. Mykonos, Greece
Celebs who love it: Gabrielle Union, Kendall Jenner, and Ariana Grande
Greece's party island attracts the newly famous especially, who can't get enough of its sun, fun, and nonstop nightlife. During the high season, you're almost guaranteed to rub elbows with a young starlet while you're shimmying away to the latest European dance mix. This is where you go if you want to end up in the gossip page of Variety.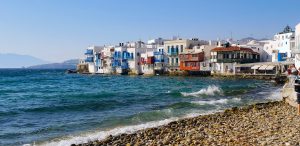 14. Bora Bora, French Polynesia
Celebs who love it: the Kardashians, Nicole Kidman
Romantic, exotic, and posh as all get out: what's not to love about Bora Bora? It's been the decadent getaway of choice for celebrities for ages, partly because they're in the small demographic that can afford it. No, it won't be a cheap vacation, but we can promise you it'll be a memorable one.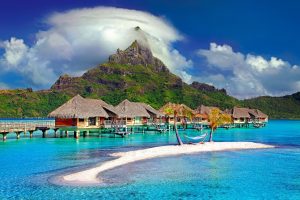 13. London, England
Celebs who love it: Taylor Swift
You can't argue with London. If you like a bit of culture with your vacay and don't mind smog and a spot of rain, then you and Tay-Tay have a lot in common. Sightseeing, shopping, and mooning around iconic attractions like Buckingham Palace and Piccadilly: a visit to London feels like you're the star of your own movie.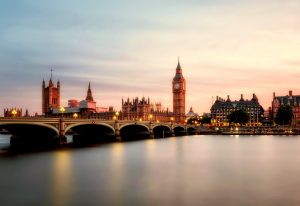 12. Bondi Beach, Australia
Celebs who love it: Nicole Richie, Hugh Jackman, Paris Hilton
What's the big deal with Bondi? Well, it's a short hop from Sydney, a vibrant city with a lot going on when it comes to the arts. Plus, it's gorgeous, rugged, and perfect for showing off your super buff bod on the beach or a surfboard. Yup, if you're into surf culture but bored of Malibu, then Bondi is the place for you.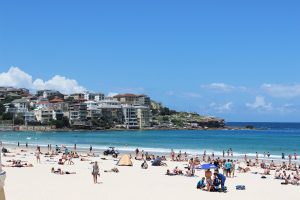 11. Tulum, Mexico
Celebs who love it: Drew Barrymore, Richard Gere, Sienna Miller, and Reese Witherspoon
If America's sweethearts Drew and Reese like it, there must be something to Tulum. And indeed, the jewel of Baja has everything you could possibly ask for on your vacation. There are Mayan ruins to explore, picture-perfect beaches, and delicious tacos. And unlike some of the other locations on this list of celeb favorites, you can still make it work on a budget.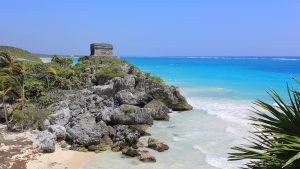 10. Paris, France

Celebs who love it: Emma Stone, Dakota Fanning, and Rihanna

No surprise here. You have to visit Paris at least once in your lifetime, even if your latest album just hit platinum. This city of love's timeless allure has seduced celebrities for centuries, and shows no signs of stopping. As long as there's an Eiffel Tower, Paris will be pulling tourists into its orbit like moths to a flame.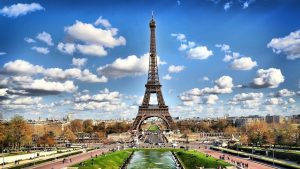 9. Dubai, UAE
Celebs who love it: Kendall Jenner, Justin Bieber, and Selena Gomez
This oasis city in the desert shines like a beacon from the future. It's a playground for celebs who want to crash in high-end hotels, put around in a Lambo, and shop designer labels until they drop. There's also lots of unique recreation to try, like zip-lining between skyscrapers and racing dune buggies.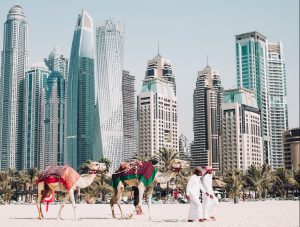 8. St. Tropez, France

Celebs who love it: Cindy Crawford, Tom Cruise, and Jack Nicholson

The location that inspired a line of self-tanner is sunny as can be expected. Credit goes to Brigitte Bardot for making it such a sought-after destination. The French bombshell pretty much transformed St. Tropez from a fishing village into a favorite celebrity vacation spot when photographs from the trip made all the major magazines. Or maybe the credit should go to her bikini.
7. Aspen, USA
Celebs who love it: Kate Hudson, Mariah Carey, Will Smith, Bella Hadid
A glamorous cluster of chalets and shops in the mountaintops of Colorado, it's not new that Aspen is heaven for ski bunnies. But it also has a lively food, theatre, and art scene to keep even the winter sport-averse entertained for a lifetime. Aspen also has more than its fair share of spas, the perfect retreat for emerging stars weary from a busy pilot season.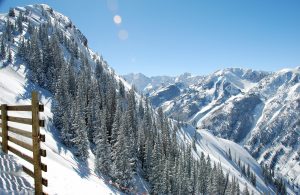 6. Rio De Janiero, Brazil

Celebs who love it: Madonna, Gerard Butler

It's impossible to be bored in Rio. Even though Carnivale only happens once a year, the festival spirit is always in the air in Brazil. Celebs tend to flock to Ipanema Beach, where the gorgeous sandy shores are steps away from luxury hotels and bottomless piña coladas. Beautiful people, incredible landscape, and awesome music: a trip here is like a ray of light on every traveler's calendar.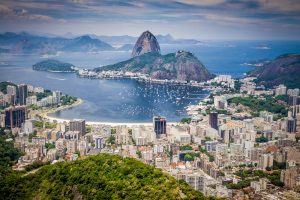 5. Cabo San Lucas, Mexico
Celebs who love it: Julia Roberts, Jennifer Aniston, Cameron Diaz
Or Cabo, as the cool kids refer to it. It's not hard to figure out why celebs would love this place. It's a short flight from LA in exchange for great weather, margaritas, and Instagram-famous landscapes. Lovely beaches, great food, and warm people, but what else would you expect in Mexico?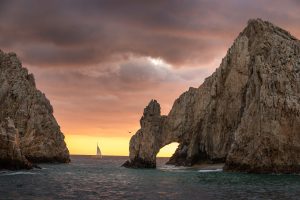 4. Tahiti, French Polynesia
Celebs who love it: Gigi Hadid
The island most often compared to the Garden of Eden, Tahiti is truly a paradise. Especially for anyone who loves swimming, sunning, and absorbing all the beauty that Mother Nature has to offer. And no, we're not talking about the tropical forests and turquoise water; we're talking about all the Hollywood heartthrobs and supermodels that vacation here.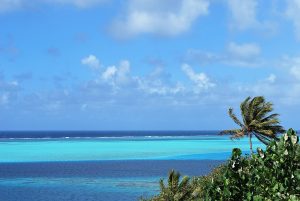 3. Maui, Hawaii
Celebs who love it: Paris Hilton, Britney Spears, Will Smith
So, Hawaii is perfect and everybody knows it, including movie stars, pop stars, and hotel heiresses. Do we need to remind you why Hawaii is an amazing place to visit? Probably not, but here are a few buzzwords anyway: beaches, mountains, warm ocean breezes, pineapples, ukuleles, and Julia Roberts. She has a house there, and just like her, it's beautiful.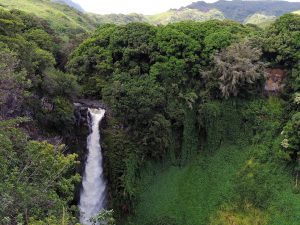 2. St. Bart's
Celebs who love it: Leonardo DiCaprio, Martha Stewart, and Beyonce and Jay-Z
Got a yacht but don't know where to park it? It won't feel lonely at this gorgeous island in the Caribbean, where high-end designer shops are starting to outnumber the grains of perfect white sand on the beaches. There's no better place to oil up for that envy-inducing Instagram selfie.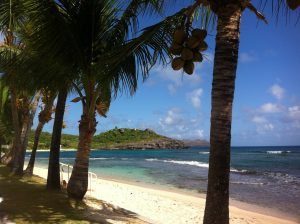 1. Monaco

Celebs who love it: Elton John, Tom Cruise, and Johnny Depp

Last on our list of favorite celebrity vacation spots is a location that's more famous than the big names who like to visit. An independent city-state on the French Riviera, Monaco is like the Vatican, but for people who prefer a big dollop of sin with their breakfast. Casinos, luxe resorts, and all kinds of opportunities to get in trouble make it a fave spot for playboys, supermodels, and the very, very rich.