How To Have A Craic'ing Good Time In Ireland
Dubbed the Emerald Isle — and for good reason — the Republic of Ireland is home to everything green, from its St. Patrick's Day festivities to its rollicking green hills that kiss the coastlines. Its landscapes provide the perfect backdrop as you explore the millennia of history, politics, culture, and sensuality that inspires the traditional Irish love of song.
The Republic of Ireland is divided into 32 counties, each distinct and brimming with its own attractions. Sit in one of the thousands of local pubs where you can enjoy pints of beer (of course) and often live music as well. Take an enlightening trip to one of the country's many museums, survey architecture from the Vikings to Queen Victoria, walk the battlements of centuries-old castles, or stop at must-see landmarks made famous in movies and TV shows like P.S. I Love You, Harry Potter and Game of Thrones.
Whatever your tastes, you'll find something to delight you in Ireland.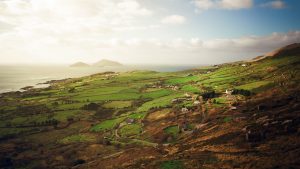 Quick Facts
Capital City: Dublin
Language: Ireland's national languages are Irish and English
Currency: $1 USD is equivalent to $0.88 Euros
Population: 4,822,288
Size: 84,421 km2
When To Go
While any time of the year is great for a visit, it should be on every traveler's bucket list to tour the Emerald Isle during the feast of its patron saint: St. Patrick's Day (or Paddy's Day to locals). The party starts early on this national holiday!
If you're in Dublin, enjoy the annual parade. But whether you're in the capital or another town, dancing and drinking the day away in the understandably busy pubs is mandatory. And, of course, it wouldn't be St. Patrick's Day unless you cover yourself in green from head to toe.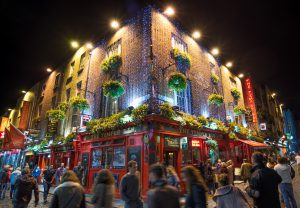 How To Get Here
Depending on the time of year you choose to visit — whether during peak season or the low ebb — roundtrip flights range in price. They'll also vary depending on whether or not you can stomach a layover.
Here's roughly what you can expect:
LAX: $600 to $1,300

JFK: $450 to $1,100

ORD: $550 to $1,000
Ireland's national airline, Aer Lingus, offers non-stop flights. Their transatlantic fleet is fairly modern. You'll find the seating reasonable, the in-flight entertainment sufficient, and the complimentary meals surprisingly palatable and filling — assuming you like Irish fare. If you're lucky, there will be plenty of empty seats in coach as well, and you may just end up with a whole row to yourself.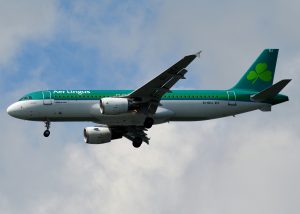 How To Get Around
It's highly recommended you rent a car for the duration of your time in Ireland. Rentals are cheap and provide much more freedom, while making it easier to visit some of the country's smaller towns and villages. Ireland also offers options to bus, or even to pay for a pre-planned tour like Shamrocker Tours, which includes accommodations and some activities as well.
A word of caution, though: driving here is definitely its own beast. Irish drivers will fly down narrow two-lane country highways at 60+ miles per hour, and driving is on the left.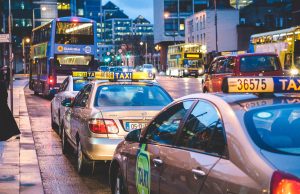 Where To Stay
Known for its warm hospitality, Ireland has more than 3,500 places to stay. You're sure to find a bed and breakfast, hotel, hostel, campground, or Airbnb to fit your travelling tastes and budget.
Generator Hostels is one of the more popular options for backpackers, ranging in price from $30 to $50 per person, per night. Most other hostels in Dublin, such as Abbey Court or Isaacs, also range in price from $30+.
Hotels, on the other hand, run a little pricier — from $100 to $400 a night depending on where you choose to stay. Whether it's the Hotel Riu or the Hilton or a hostel, your stay is sure to be plenty of fun. A healthy diet of Guinness will help you sleep like a baby wherever you lay your head.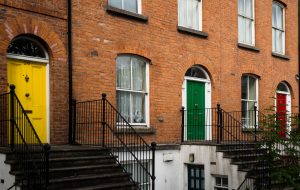 1. Dublin
Known for its friendliness, history, and multitudinous bars, Dublin — Ireland's capital — is teeming over with much to see and do.
Dubbed a UNESCO City of Literature in 2010, the capital's history is written in its architecture, its street culture, its music, and its stories. From bullet holes in historical buildings, to the Guinness factory, to one of the most breathtaking colleges in the world, Dublin is undoubtedly a must-see when visiting the Emerald Isle.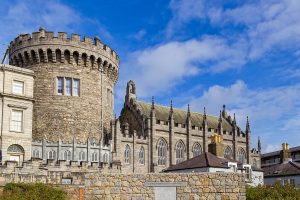 Temple Bar
While Ireland is drowning in charming local pubs, it wouldn't be a visit to Dublin without stepping foot inside the historical Temple Bar. Located in the heart of Dublin, and dating back to the 1300s, the bar's iconic red exterior is a welcome sight for tourists in search of a pint. Plus, with live traditional Irish music seven nights a week, you'll get a chance to indulge in a huge part of the local culture. As if Temple Bar weren't already iconic enough, it is also home to one of Ireland's largest whiskey collections.
Trinity College
It's undoubtedly one of the most gorgeous post-secondary schools out there, the perfect place to enjoy historical buildings and large, green fields. It's also home to the Library of Trinity College where the Book of Kells is stored. One of the nation's greatest cultural gems, the Book of Kells is an illuminated manuscript of the New Testament dating back to the 9th century, making it one of the world's most famous relics of the medieval world.
Depending on your group size, tickets will range from $11 USD to $30 USD.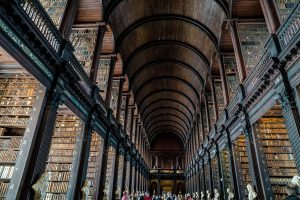 Guinness Storehouse Factory
How could you visit Ireland without visiting one of its staple exports? A tour of the Guinness factory provides you a step-by-step view of the brewing process. There's also a bar at the very top of the storehouse, offering a 360-degree view of Dublin as you enjoy your pint of stout.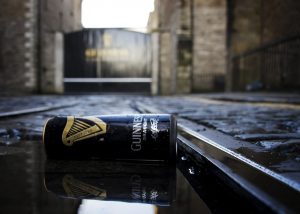 Old Jameson Distillery
While Ireland is known to be the home of Guinness, it is equally known for producing Jameson Whiskey. For $20 you can take a tour of the old distillery. While it's no longer used to make whiskey, you'll get a chance to walk through the history and process of how it's made, plus you'll get an opportunity to do some tasting and compare different brands. You can also participate in whiskey blending or cocktail-making classes.
Grafton Street
The heart of the city for over a century, Grafton Street is home to some of the more eclectic and historical buildings of Dublin. The epicentre of the city's social life, this winding and narrow road is a clash of both history and modern days times, and despite newer brands taking residence, Grafton Street's gothic Victorian-era architecture is still intact. It's no surprise that this is the go-to for locals and tourists alike to shop, eat, and drink.
Plus if you're out late and night and you find yourself yearning for something decidedly uncultured, this rather compact streed has not one but two Burger Kings. (Dublin really seems to have a thing for Burger King…)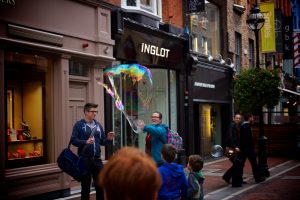 Malahide Castle & Gardens
Dating back to the 12th century, Malahide Castle is one of several beautiful fortresses located in and around Dublin. You can take a guided tour through the castle's interior, where visitors will get a chance to view beautiful reception rooms, the Small & Large Drawing Rooms, the Great Hall, period furniture, and astounding paintings from the National Gallery of Ireland.
Visitors are also free to roam through the private gardens, or just enjoy the scenery surrounding the castle. Tours cost about $15 per person.
2. Galway
The inspiration for popular versions of Galway Girl songs, this harbour city is one of the more beautiful in Ireland thanks to its historic architecture and cobblestone streets. Overflowing with history and culture, Galway has everything from some of the oldest buildings and shops, to fun festivals, and architectural splendours.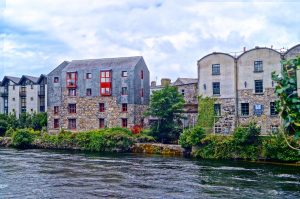 The Latin Quarter
Described as where Galway comes alive and the city's cultural heart, the Latin Quarter is home to some of the best and quirkiest shops, restaurants, hotels, and historic buildings. Walk down High Street for some unique shopping, or stroll down Kirwan's Lane for a glimpse into Galway's medieval past. You're sure to feel alive amid  this part of town's vibrancy — thanks to the cobblestones and bright colours, along with some entertaining street performers.
Dunguaire Castle
Found on the south corner of Galway Bay, this 16th century tower house is open to the public all year round and is set against the backdrop for some of Ireland's more gorgeous sunsets.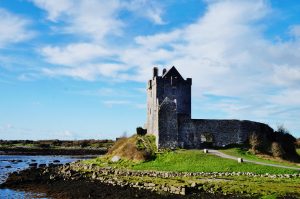 The Arches
Did you know Galway was once a medieval walled city? Remnants of the city's deep roots can be seen through the the Spanish Arch and Caoċ Arch, which are the last remaining gateways of the Front Wall, dating back almost 500 years. It's the perfect spot to enjoy the view of where Galway's water meets the sea, and a chance for you to soak up some sun.
Galway City Museum
Ranked as Ireland's 11th most popular free attraction, you can take a tour of Galway's history from the 1800s to the 1950s at this museum. Marvel at iconic fishing boats, as well as tales from the Great War. Explore the archaeology, history, and sea science of this fishing town. The museum is open Tuesday to Sunday.
Charlie Byrne's Bookshop
One of the city's great treasures, this bookshop is filled with more than 100,000 second and third-hand books, including some rare finds like out-of-print titles and a selection focused of Irish literature and non-fiction. It's a must-do for all book lovers.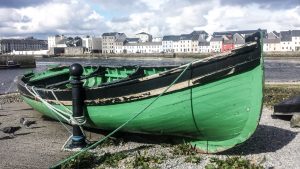 Thomas Dillon Claddagh Gold
If you're familiar with the iconic Irish ring of two hands holding a heart, pronounced like klad-uh, Thomas Dillon should be on your list. This romantic accessory originated here in Galway, and you'll get a chance to purchase a ring if you like. If you're also fascinated by the ring's history, make sure to take a look inside the Claddagh museum in the back to learn more about its history. This is also the home of the world's tiniest Claddagh ring.
Oscar's
You can't visit Galway without indulging in some of its best seafood dishes. Make sure to enjoy a meal at Oscar's, the restaurant that claims to offer Galway's most unique seafood menu, which, depending on the catch of the day, can include crab, mussels, oysters, and fish cakes.
3. Dingle
In County Kerry, at Ireland's north-western point, lies the small fishing town of Dingle. A part of the Dingle Peninsula — known as a hikers' paradise — Dingle is abundant in its activities, history, and culture. Pass through during your Irish excursion to enjoy what this small, colorful town has to offer, while also getting a chance to explore the plethora of outdoor wonders and activities in and around the Peninsula.
Slea Head Route
This circular drive starts and ends in Dingle, taking visitors through some of the Peninsula's most extraordinary views. The route is 26 miles long, but take time to make stops along the way as you immerse yourself in all the historical and natural sites including the Blasket Islands, Coumenole Beach, Slea Head itself, and abandoned farmhouses and shipwrecks. The route is narrow in some parts so drive with caution. However, because most of the route hugs the coastline, the easy roads are perfect for cycling. You have the option to rent bikes in Dingle.
Dingle Oceanworld Aquarium
Known for its statute of long-time harbour resident Fungie the bottlenose dolphin, it's only fair to make a pitstop at one of Dingle's main attractions. It's here you'll get a chance to see plethora of sea life and reptiles like jellyfish, crabs, crocodiles, penguins, otters, snakes and Ireland's largest collection of sharks. Entrance to the aquarium is about $17 per person.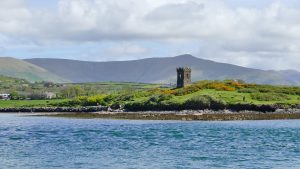 Murphy's Ice Cream
It's hard to miss this bright blue ice cream shop. Opened at the start of the millennium, Murphy's has quickly turned into a Dingle staple and a must-see. The handmade artisan ice cream was created in Dingle — with flavors like Irish Coffee, Dingle Sea Salt, and Baked Banana Sorbet, it's no surprise this is a favorite with locals.
Fun fact: the sorbets at Murphy's are made from distilled Dingle rain!
Mount Brandon
Considered one of the best views in Ireland, hike up Mount Brandon on a clear day to enjoy the lay of the Dingle Peninsula. Ask the locals for the best route, and make sure you go on a clear day.
Inch Beach
It's not all rain and grass in Ireland. Despite its name, Inch Beach is not the smallest beach ever —  rather with its 3 miles of golden sand it's one of Ireland's longest. Weather permitting, visitors can surf, swim, suntan, or indulge in long walks. Inch Beach is the perfect location to achieve the right amount of R&R.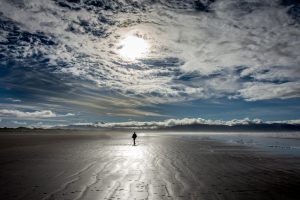 4. Other Sights to See in Ireland
Consider taking a day trip to visit some of Ireland's natural, breathtaking sights. Whether you stay in Galway, Dingle, Dublin, or even small towns like Ballintoy where parts of Game of Thrones have been filmed, you're never more than few hours away from rippling green hills, historic ruins, and craggy cliffs.
Wicklow Mountains
Made famous as the setting of Hilary Swank and Gerard Butler's first meeting in P.S. I Love You, The Wicklow Mountains are just a day trip away from Dublin. Bring your camera to capture the breathtaking vistas, with verdant hills and fields of lavender.
Tours depart from the city for about $27, which includes transportation to and from, an Irish lunch, and a brief historical overview.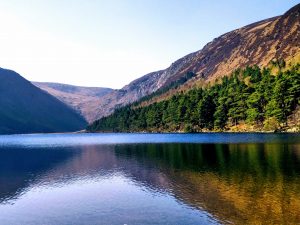 The Burren
Essentially translated to "a rocky place," the Burren is Ireland's paradise of limestone. For as far as the eye can see, it's a beautiful landscape filled with various rock formations. A great spot to hike, you can walk through the National Park where you'll see the bounty of nature as alpine, arctic, and Mediterranean plants thrive in the rocky terrain. The Burren is also home to the Cliffs of Moher.
Cliffs of Moher
These breathtaking cliffs are on the Ireland must-see list. Whether it's a sunny day, or foggy afternoon, the Cliffs provide a stunning view out over the ferocious waves crashing against the rock faces below. Made popular by various films like Harry Potter and the Half Blood Prince, as well as The Princess Bride, these natural formations are unmissable — especially if you're an amateur photographer.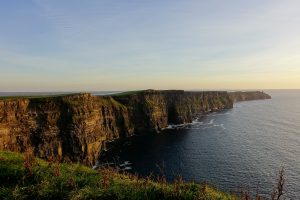 Giant's Causeway
If you care to venture into Northern Ireland, you'll find a completely natural feature to rival any modern feat of architecture. Included on the World Heritage site list in November 1986, The Giant's Causeway is one of the 25 places in the world that is mentioned on both the cultural site and natural site lists.
The result of a volcanic eruption years ago — or Finn McCool — this geological treasure is made up of 40,000 interlocking stone columns. You can enter the Giant's Causeway for $10 a person, and you'll have the whole day to explore the natural rockfaces, take in the crashing waves, and even trek across the hanging bridge.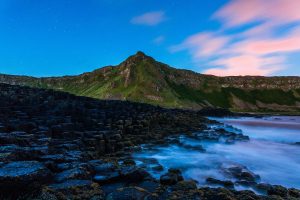 Blarney Castle
Built more than 600 years ago, Blarney Castle is one of Ireland's greatest treasures, thanks to its main attraction: the Blarney Stone. Local legend has it that upon kissing the Blarney Stone you'll be blessed with the gift of gab.
The stone can be found at the top of Blarney Castle; in order to reach it, take a marvelous historic walk through this building's medieval architecture.
For about $20 USD, you'll get the chance to explore the castle and its grounds. And while the Blarney Stone is the castle's main attraction, you'll enjoy other surrounding sights like the castle ground's majestic gardens, the Witch Stone — the witch of Blarney — the Rock Close, the Badger's Cave, and so many other natural eccentricities and hidden splendours.